Joep Lange's partner, Transform Health has been busy with G20 activities this year.
JLI's Director of Health Diplomacy, Dr Christoph Benn, is also President of Transform Health. He and Executive Director Mathilde Forslund reflects on the many activities and successes toward shaping more effective digital health funding strategies. Read below.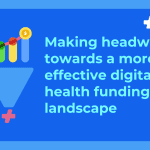 Reflections in the lead up to the G20 Summit: Making headway towards a more effective digital health funding landscape | Transform Health
– Reflections by Mathilde Forslund & Christoph Benn, Transform Health Almost a year ago, Transform Health published a report, Closing the digital divide: More and better funding for the digital transformation of health, to guide investment and action to support the digital transformation of health s…
About Transform Health's Mission
To build a global movement that brings together organisations and institutions across sectors who are committed to achieving UHC within the next ten years by expanding the use of digital technology and increasing access to data.
Find more information at https://transformhealthcoalition.org/